Where can you find 2 days of inspiring tech professionals, informative panels, innovative companies, and good vibes? Oh, and did we mention Black Excellence? There's only one place: the BFUTR Global Tech Summit in Toronto. But don't just take our word for it… hear from the previous attendees themselves on what makes this conference so unique.
It's hard to put a label on BFUTR because it brings so much! World-renowned speakers with insightful panels and resources? Check. Amazing attendees to connect with? Got it. Job opportunities and professional networking? Yep. An after-party with Grammy-winning artist Ludacris? Mic drop.
BFUTR is a conference that allows you to branch outside of your comfort zone and embrace personal and professional growth like never before, all surrounded by a community that looks at and understands you.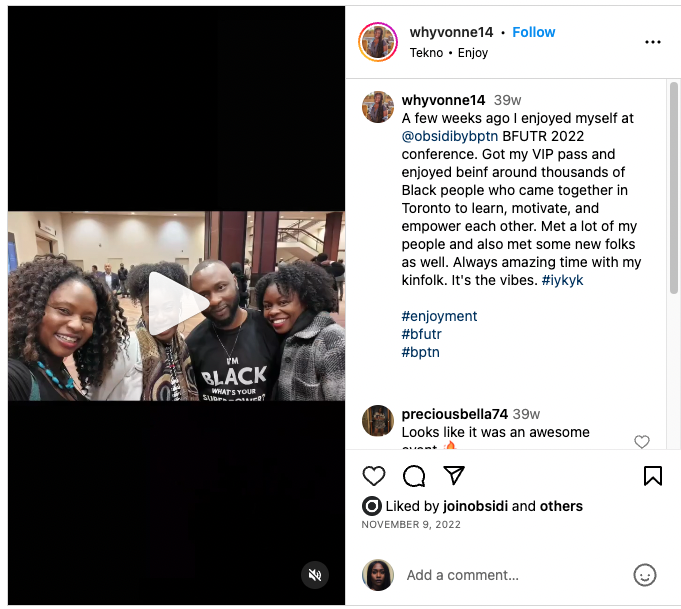 "The opportunity to attend THE only Blackity Black Tech Summit in town came my way, and I jumped at it like I was in a dunk contest. All of you, I had such a good time! Mixing and mingling with Black excellence is my favourite pastime, and seeing Black people win is my favourite sport. Walked away with too many nuggets." – Victoria Willis, BFUTR 2022 Conference Attendee. 
Your Tribe Sets Your Vibe
You know what they say… You are only as good as the people who surround you. And we're not saying your crew could level up…. But there's always room to add a new connection to your list. BFUTR brings the most innovative, motivated, and ambitious attendees together, and the vibes are unmatched. 
"Got my VIP pass and enjoyed being around thousands of Black people who came together in Toronto to learn, motivate, and empower each other." – Yvonne, BFUTR 2022 Conference Attendee. 
A Virtual Experience Like No Other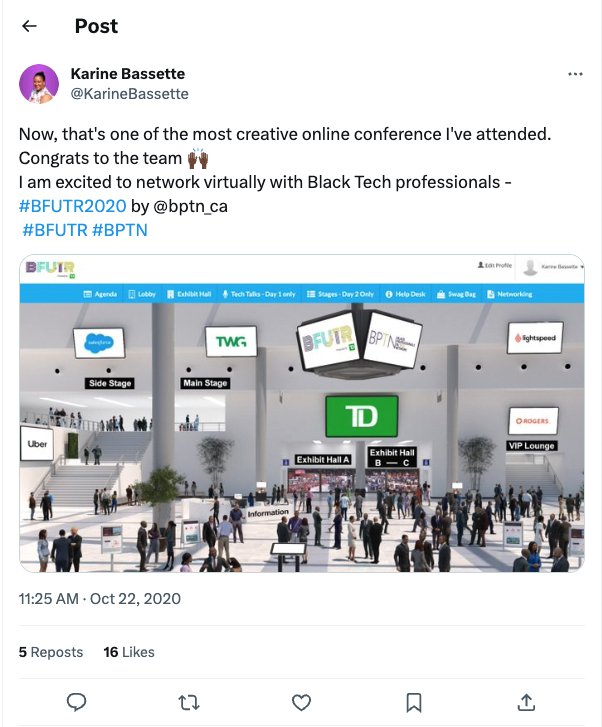 Not able to make it in person? No worries – we have your back with a unique virtual experience to catch the magic of BFUTR from anywhere. We kicked off our virtual conference options in 2020 with an experience like no other and are excited to bring it back. 
"Now, that's one of the most creative online conferences I've attended. Congrats to the team." – Karine Bassette, BFUTR 2020 Virtual Conference Attendee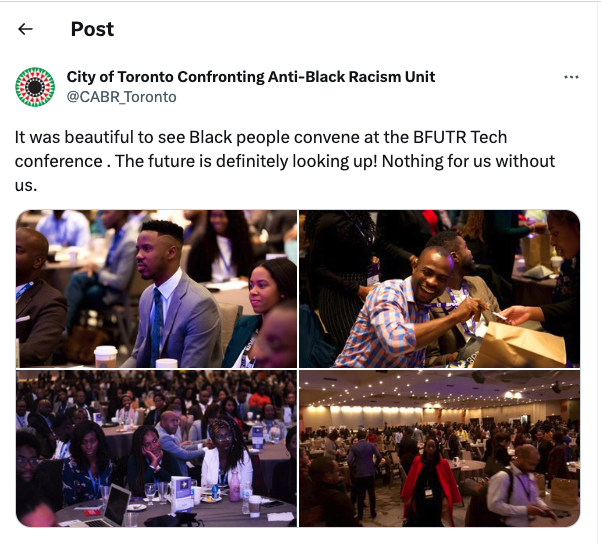 There is something special about being in a room of intelligent, successful, and passionate Black professionals. It's inspiring, and it can be transformative. We think the City of Toronto Confronting Anti-Black Racism Unit said it best last year…"It was beautiful to see Black people convene at the BFUTR Tech conference. The future is looking up! Nothing for us without us." 
With countless stories telling us about the impact this conference has had on both professional and personal growth – we know the hype is real. Attending BFUTR is your ticket to growth, connections, and achievement. Place the bet on you and your growth and join us at BFUTR 2023. Grab your tickets here if you haven't already, and we'll see you in Toronto.